The Kingdom Kids ministry at GCF is the premier ministry of the church. Leaders from nations around the world have come to study this model, so they can implement it in their network of churches back in their countries. The Westminster Catechism states, "The chief aim of man is to glorify God, and enjoy him forever."
We couldn't agree more, and these two truths are foundational to the children's ministry. We seek to develop the spiritual senses of our children so that they can enjoy the depth and quality of relationship with God that Jesus went to the cross to obtain for us. Out of this intimate relationship with the Lord, we seek to develop both godly character and spiritual giftings, which bring glory to God. We serve a generational God – "I am the God of Abraham, Isaac, and Jacob" – and so we are a generational church. We believe that "…out of the mouths of infants and babes you have ordained praise…" Our children are our future, and that is why we place a priority on their generation.
Scroll down to our media section below to view some videos of past events!
George
KINGDOM KIDS LEADER
George loves working with kids of all ages and has an impressive record of 11 years as a professional educator. He has a heart to reach the younger generation with the love of Jesus and show them how to make a difference in this world. George's passion for serving and helping others extends to all aspects of the church.
The Mendoza family first came to GCF in August 2018 after a long season of searching for community. As George says, "Our lives were changed from the day we first walked into GCF. We are witnesses to God's transforming power in our lives as we continue to seek ways to give ourselves completely to the Lord."
When not working as a Mortgage Loan Originator or attending church, George loves spending time with his wonderful wife, Amy, and their amazing son Cameron. They enjoy playing games, watching movies, and love spending time at the coast fishing as a family. The Mendoza family includes 4 dogs and 1 pig (yes, a pig!) named Chops.
Shelby
KINGDOM KIDS LEADER
Shelby began attending Grace Community Fellowship Wharton at a young age with her family. Having grown up in Kingdom Kids and Youth, and realizing the deep impact those leaders made in her own life, Shelby recognized God placed a passion in her heart for working with kids.  She joined the Kingdom Kids ministry and faithfully served as a leader and also taught Sunday School.
Shelby and her husband, Jeff, felt called to move to Buda, TX where they became connected with Grace Community Fellowship Hays and made the church their permanent home. Shortly after celebrating their first wedding anniversary, God blessed them with a beautiful baby girl and allowed them to begin their best chapter yet.
Shelby attended Dental Assistant School and worked in the field for multiple years but since welcoming their daughter, she is now a stay-at-home mom and loves every minute of it! Outside of church, you can find her cooking, at the park with her daughter, or exploring Austin with her husband.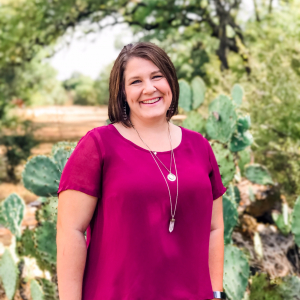 Melissa
NURSERY DIRECTOR
Melissa came to Texas from Utah in 2012 with her husband Nate and children, Emma, Chloe and added Caleb while living here.  She left her job as an elementary school teacher of 8 years to follow her husband for his job and transition to her dream of being a stay at home mom.  Melissa has served as a Sunday school teacher, MOP's childcare worker, and leader of a MOP's craft team.  She also served on the worship team at her church in Utah and loves teaching children through music and songs.  Melissa taught for 2 years at Hays Hills Christian Learning Center (CLC), as a preschool teacher and has volunteered in nurseries since she was a teen.  Melissa loves engaging the children and using learning techniques to teach them about God's word in ways that children understand and process information.
Melissa loves spending time with her family, helping her kids with school, preparing lessons for nursery, cooking for her family, and caring for her home.  Somehow, she also finds time for her other passions of baking treats, reading, and home improvement projects. 
Media
Check out the highlights from our most recent "Impact" GMI summer camp.